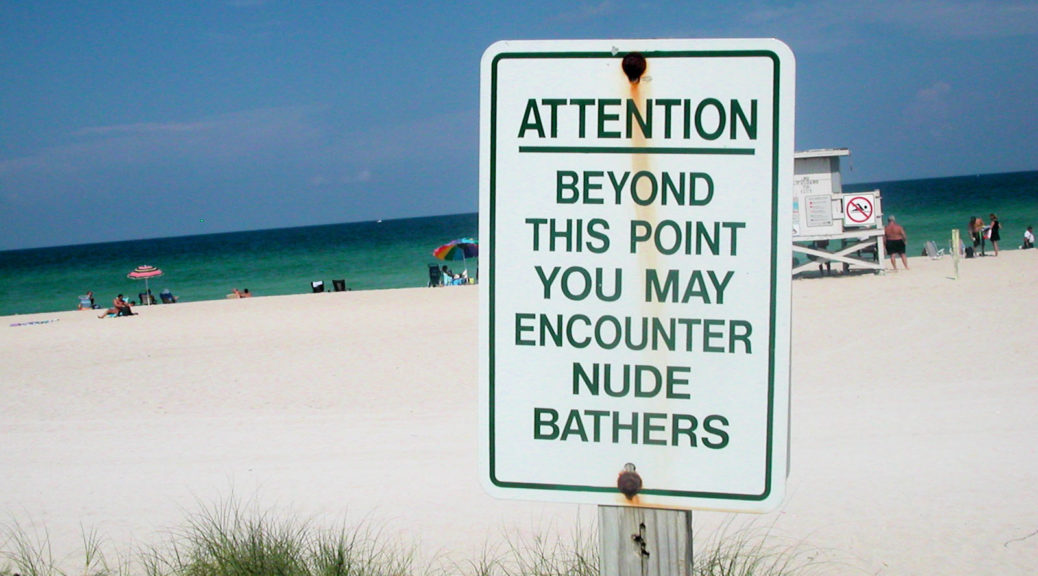 The Naturist Talks: Rob from the UK
The Naturist Talks: Rob from the UK
Naturism is a wonderful lifestyle that we try to enjoy as much as possible. In as many places as possible. Most of the time we share our own views on the different aspects of nudism but once in a while, we like to pass the mic to hear about how someone else's experiences. Via this Naturist Talks interview series, we listen to naturists from all over the world. They share their experiences, tips and stories about naturism and thanks to them we keep learning about the different aspects of life in the nude.
Today we're listening to Rob, a naturist from the UK.
Hello Rob, please tell us something about yourself
Hi! My name is Rob, I'm in my late 20's and I live in the UK with my wife and our cats. I currently work as a nurse for elderly dementia and Alzheimer's sufferers, it's one of the most difficult things I've ever had to do and I face challenges on a daily basis, but honestly I wouldn't want to do anything else. When I'm not at work, I'm a big follower of football. In my younger, fitter and not so employed days I tried to play a bit, alas those days are past me!
I also live for my holidays, it's what we save up for all year long, so far our favorite place is Fuerteventura but we have a never-ending list of countries and cities we want to see, we both have a huge respect for other people and other cultures and feel very passionately about traveling to experience these!
How and at what age did you become a naturist?
I think I was in my mid-teens, however I never really put a name to it until I discovered British Naturism (the UK's Naturist organization), when I was about 17 and the naturist swim in the city we lived in for a short while. That being said as soon as I left my parents' house I was naked pretty much 24/7 in my own home!
Is naturism allowed in your country and what's the public opinion?
Currently, there is no law against it, but it still seems pretty frowned upon, especially where I live. It's a very large area but made up of lots of small towns and villages, we have a much older population who seem to be stuck in their ways for the most part, however opinion seems to be slowly changing, but we still have some way to go…this is despite me living near an official naturist beach!
What do you think is the best and worst thing about naturism?
The best thing about naturism is the feeling of openness and freedom you get (I know that's a cliche!). I genuinely challenge anyone who thinks that swimming with a swimming costume or shorts on is a better method than swimming naked, especially on a beach on a warm summer's day, who wants a wet swimming costume sticking to you?
The worst thing about naturism is probably the stigma that's still attached. I have to be very selective with the people I tell about my lifestyle, my closest friends all know and whilst it's the subject of the occasional wee joke they're all very supportive and accepting of it, even the ones who admit it's not something they could ever do. However, there are people close to me with whom I can't be totally honest with for fear of judgment and ridicule, not so much because they're bad people but because they still see a stigma attached to naturism.
Do you find it easy to make naturist friends?
Tough question! It's difficult where I live because of the points I mentioned before. Some of my friends do say they enjoy going to naturist beaches abroad or chilling in their house naked etc, but it's not something they could ever do socially. I have met some lovely people through British Naturism but all of those friendships have, at least to this point only been online.
What's the best tip you have for beginning naturists?
Just be yourself and take it at your own pace, there's no right or wrong way to practice naturism, if you want to be a stay-at-home naturist who's only ever naked around the people they know and trust, that's absolutely fine! If you want to be the social naturist that attends events, swims and holidays that's great too! Just do what makes you happy!
Anything else you'd like to share with our audience?
Naturism has genuinely changed my life and helped me see things differently, just that feeling of coming home after a 12 hour day, undressing and chilling on my couch watching the same old nonsense on Netflix is absolute bliss.
I feel more confident without clothes on, which may seem strange to some, but clothes put up a barrier, you can judge someone on what they wear, however at naturist events I've met such a wide range of people, from university students, retired people, doctors, lawyers right along to Supermarket shelf stackers, literally, every single one of us is the same, there's no judgment and there's no preconceptions. So if you've ever considered it, give naturism a try, you'll never look back!
Thank you so much for sharing your story Rob!
Do you also want to tell your story and experiences in naturism? Please get in touch via the CONTACT page! As long as we have people who like to contribute, we can keep The Naturist Talks running!